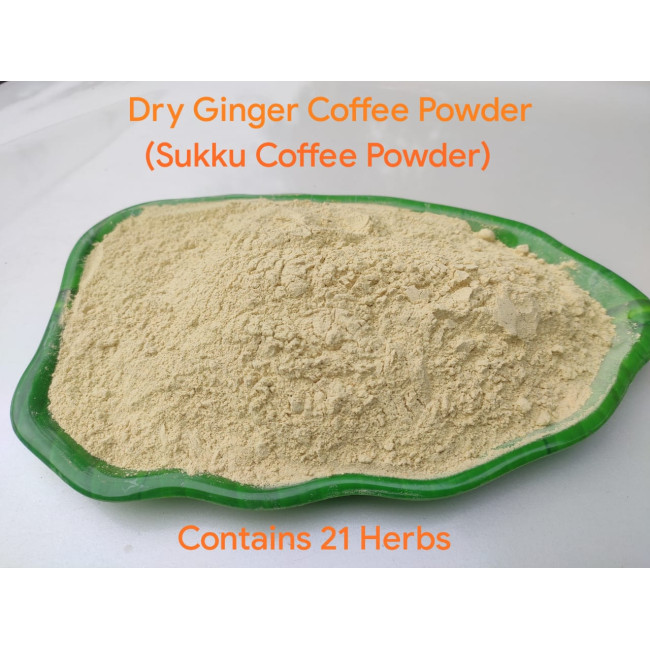 Sukku Coffee(DryGinger Coffee)250G
Sukku Coffee (Dry Ginger Coffee) powder has 21 herbal ingredients including dry ginger, palm sugar and etc.
100% Natural. 100% Chemical Free.
Palm Sugar included so no need to put additional sugar.
This helps majorly on cough, cold and throat infection. Really needed for old age people for rainy seasons to avoid cold.
SUKKU COFFEE (DRY GINGER) POWDER
Sukku coffee has been used as a home remedy for everything from digestive issues to the common cold in Tamil households for centuries. Ginger powder taken regularly could aid in controlling blood sugar as well as improving heart disease risk factors by virtue of it's lowering the bad cholesterol.
BENEFITS:
Immediate Relief from Gastric Indigestion.
Acidity.
Cold.
Cough.
Headache.
Back Ache.
Joint Pain.
Tiredness.
Constipation.
USAGE:
Used with Milk and Hot Water.
Just add 2 spoons of 7DINAM sukku coffee powder on the hot water and you will get the Sukku coffee ready
INGREDIENT:
Dry Ginger (Sukku in Tamil).
Pepper.
Long pepper (Thippili).
Coriander leaves.
Muster seed.
Turmeric(Manjal).
Athimathuram.
Nannari.
Amukkara.
Sathakuppai.
Siruthekku.
Kandankathiri.
Seeragam.
Tulsi.
Garlic.
Chithirathai.
Nellikai.
Vallarai.
Arathi.
Thoothuvalai.
Palm sugar.
Write a review
Your Name:
Your Review:
Note:

HTML is not translated!
Rating:
Bad
Good
Enter the code in the box below:
Customer Special Products