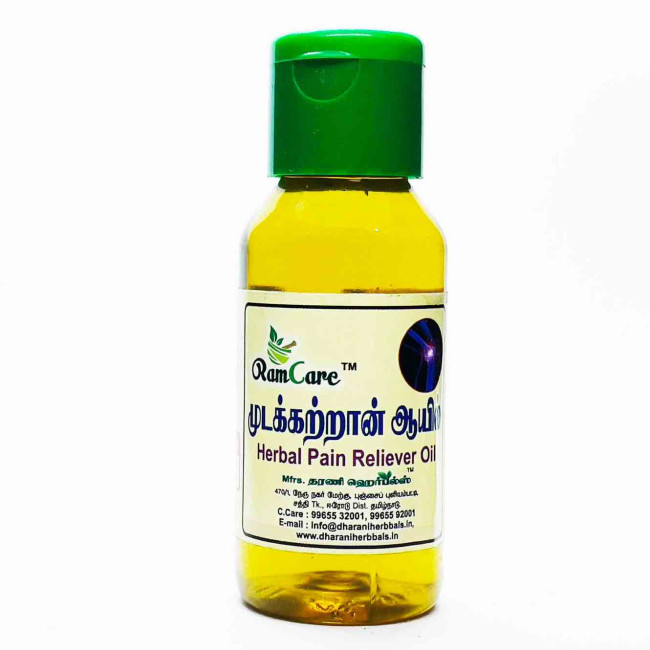 Ramcare Mudakathan Oil Pain Reliever oil 60ml
Brand:
Ram care
Product Code:
UZH241
Availability:
In Stock
Mudakathan keerai is an amazing ingredient to include in our diet as it has amazing nutritional value, medicinal uses and health benefits. It is especially well known for treating joint pain and promoting hair growth. We use both fresh mudakathan keerai leaves and dried mudakathan powder extensively in home remedies. At home we make mudakathai keerai dosai, mudakathan oil to stop hair fall and promote hair growth, mudakathan keerai soup, mudakathan keerai thuvaiyal (mudakathan keerai thokku), mudakathan keerai rasam and mudakathan keerai chutney regularly.
Ramcare MoodakattranHerbal Pain Reliever oil:

Ramcare Moodakattranpain reliever oil is the best natural solution for
- Back Pain Sprains & Strains
- Hip Pain & Knee Pain
- Neck Pain & Joint Pain
- Shoulder Pain Swelling
- Boon to women in relieving the abdominal pain associated with menstruation
It provides quick relief from any strains and body aches by
penetrating into dermal layers with in few minutes. It strengthen the
bones and give comfortable movement for joints and muscles.
---
USAGE:
Apply on affected area and gently massage for 15 minutes. Use medium
hot water or any hot therapy after 1 hour. Apply 2 or 3 times daily.
---

INGREDIENTS:
Vathanarayana
Mudakattraan
Pirandai
Eucalyptus
Thalisapatri
Waai vilangam
Write a review
Your Name:
Your Review:
Note:

HTML is not translated!
Rating:
Bad
Good
Enter the code in the box below:
Customer Special Products